Check out our full version of our April 2020 Lantern here!
6 "How precious is your steadfast love, O God!" Give thanks and praise for God's love and mercy washing over us and providing us refuge.
COVID-19 NEWS:
CONFIRMATION CAMP PARENTS MEETING, SENIOR FELLOWSHIP, THE MISSION TRIP MEETING, ASSISTED LIVING WORSHIP SERVICES, HOLIDAY MEALS AND ALL OTHER GATHERINGS & COMMITTEE MEETINGS ARE EITHER POSTPONED OR WILL BE MEETING ONLINE OR OVER THE PHONE.
SUBSCRIBE TO RECEIVE WEEKLY UPDATES
& THE NEWSLETTER VIA EMAIL!
CORONAVIRUS AND KIDS
Greetings adults! Just thought I'd share a few thoughts with you regarding how the world is handling this scare and how it may affect your kids in ways you don't realize. I don't mean that they miss school…or don't miss school. I am not referring to trying to "keep them busy" or deal with child care if you have to go to work. I am also not referring to cancelled activities that have to be rescheduled or time that has to be filled.
I am talking about what kids are learning from adults and their reaction to this pandemic on a daily basis. In reality this is a perfect opportunity to model what faith can help us get through. Just like anything however, in mentoring youth, we have to intentionally make sure they understand our reactions, fears and frustrations. More importantly we need to make sure they know exactly how we deal with it.
We often underestimate the effect of traumatic experiences on children. We claim "they are resilient" and to some extent they are, but more importantly than on the outside being visibly resilient our kids are learning every day from the adults in their lives what appropriate responses to trauma are. This pandemic is trauma. We usually think of trauma as a death, a bad accident, a loss of some type but trauma is any event that creates anxiety. This "new normal" is traumatic to us all and not going to school anymore is a trauma. It is a negative unexpected event that will change their lives. It's not a snow day. It's an unknown length of time in which they were suddenly torn from their social networks, their regular meals ( in many cases), their support network at school and formal learning. While on many levels the inconvenience is annoying and heartbreaking there are deep seeded implications for kids.
The hope of the church is that we will all realize that in times of trauma faith becomes so important. It should be important in times of celebration and appreciation as well but we really emotionally rely on faith more when the going gets tough.
Pandemic sermons speak of worry being replaced by reliance on God's involvement and support in our lives, serving others to help us realize our own ability to do God's work, understanding that we are not alone even in the lowest of low times. As adults raised in faith, exposed to faith and reliant on faith we are constantly reassured.
The important thing now if you are a parent or a caregiver or an influence on youth in any way is to model a healthy approach and remind them that faith is what will get us through this time. Honestly ( no offense to Pastor Jeff) but they don't get out of sermons what we do as adults. Instead they learn from us.. And maybe a simplified, to the point and honest sermon. Our reactions to situations are studied by those youth and make an imprint so that when they face future trauma they will draw from your examples as they grew up. Take time to have conversations with your kids about this and encourage prayer and intentional support to others. Explain that going to church has built that faith that will help you get through this. Remind your kids that every day is a miracle from God and there are often imperfections in those miracles.
When these times happen we depend on our belief that we are not alone even when we "social distance". God is everywhere in everything. He presents himself in both problems and solutions to be a guiding force if we pray and reflect on doing things as he has intended for us as human beings.
So the real to the point message here is:​ Take a minute to connect God and his presence to this pandemic and the situations kids are experiencing.​ Remind them that God has created a huge great big world for us to soak up lots of experiences and his love is in all of them so now is a time we just need to be creative with our time by learning at home, playing unstructured games instead of organized sports and giving to others in any way we can, whether it's sharing with your siblings, writing a note to a grandparent or just listening to each other.
I encourage you to get your kids to church. First Lutheran offers such a huge variety of youth activities … (including awesome children's sermons that some very creative people give every Sunday ;-). I cling to the memories of my childhood church experiences.. The smells, the donuts, the Sunday school chaos. I claimed I didn't like going but my parents were pretty adamant that it was the Sunday thing to do. I have changed denominations since then, tried different styles of worship since then and forced my own children to participate in church since then and I am SO GRATEFUL that Paul and Ruth made me go to church back in the 70's. I worry about youth attendance… and know society pulls us so many different directions now. If you don't bring your kids right now, start a once a month tradition at least and maybe that will grow as they start to have some positive experiences. And… it will be good for you to. Hang in there , stay virus free and depend on your faith. It's free.
Lisa Royek
RECONCILING IN CHRIST TASKFORCE UPDATE: Thanks for your participation in our bible study last month- that seems so long ago now, doesn't it?! We hope you found it helpful as we continue our journey in welcoming all people into our church family. The next step the taskforce will be working on is a welcome statement – letting all people know that First Lutheran is a safe and accepting place to worship, share, and be cared for. Once the taskforce crafts the statement, we will have a congregational meeting for its approval as well as the Reconciling in Christ congregational designation. Thank you for your input into this important work! If you have any questions, comments or suggestions, please feel free to touch base with a member of the taskforce: Ralph Farone, John Schwone, Kris Whitaker, Don Reed, Mary Worley, Sally Hawkinson, Sandy Wachter and Pastor Jeff.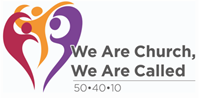 The 50-40-10 Initiative through the ELCA is a celebration of inclusion. It was 50 years ago on November 22, 1970 that the first woman was ordained in a Lutheran Church in America. 40 years ago, Earlean Miller was the first woman of color to be ordained in a Lutheran church body in the United States. And 10 years ago the ELCA's decision to Remove the Barrier to Ordination for LGBTQU+ individuals was adopted. We, as a church, have come a long way in opening the doors for people to live and serve fully in ways that God has called them. May we continue to break down barriers that exclude people and build bridges to include everyone.
COUNCIL MINUTES FOR MARCH'S MEETINGS
3/16/2020
*Next step for the RIC Taskforce will be to make a welcome statement. Then bring it to Council, if approved from Council then it will go to a congregational meeting.
*Council has been updating the Constitution a couple chapters each month.
*Council made some hard discussions to cancel Sunday church services, meetings, bible studies, and events for two weeks because of the COVID-19.
3/30/2020
*Council has decided to wisely postpone worship services and gatherings until at least April 20th, when they will reconvene to discuss steps going forward.
*The church office will send out notices of this decision via email, Facebook, website, and the Lantern.

We ask that you keep faithfully making your offering to the Lord. You are encouraged to consider what you would normally give each Sunday and make that same offering through the mail or through our website, www.flcwarren.com, by clicking on the "Give" tab at the top of the page. We would very much appreciate this, as we have had a very positive first two months of giving for January and February. Thank you in advance!
ALL THINGS IN COMMON: Uncle Marty says: Just as the bread is made out of many grains ground and mixed together, and out of the bodies of many grains there comes the body of one bread, in which each grain loses its form and body and takes upon itself the common body of the bread; and just as the drops of wine, in losing their own form, become the body of one common wine and drink — so it is and should be with us. …  Through the interchange of [Christ's] blessings and our misfortunes, we become one loaf, one bread, one body, one drink, and have all things in common.  —Martin Luther, Treatise on the Blessed Sacrament
REMINDER: We will not be taking Easter Flower Orders this year.
Jeff Granger, Emily Hecei, Rose Mary Landon, Katie Bimber, Elaine Crandall, Ralph Farone, Bob Gregersen, Sally Hawkinson, Keith Hedges, Linda Ross, Sunny Thomas, and Randy Witmer comprise First Lutheran's church council this year.  Please feel free to reach out to them with thoughts, questions, suggestions, insights, etc…  Through you, they have been called and elected to be servant leaders – to guide our church family where God is leading us.  We thank them for their service and their leadership, especially during these trying times.
HELPING OUR CHILDREN-EASTER EGG CHALLENGE Please help Social Ministry fill Easter eggs with coins during Lent to supply needy students at the Warren Area Elementary Center. Please continue to collect your change as able and remember to bring your egg(s) in once we again begin worshiping together. Thank you for being part of First Lutheran Church's commitment to "Helping our Children."
ALTAR FLOWERS FOR 2020! These are dates you can purchase flowers for this year:
              October 11 (2 vases)                     November 8, 22, 29          
Call Kris Whitaker (726-2843) or email whitakerc@verizon.net to place an order.

DID YOU KNOW…..FLC has adopted a highway!! We have adopted a 2-mile section starting at 7th Ave. North to Jackson Run Rd. For those who have already signed up, please add your cell phone number to the sign-up sheet in the Narthex in case we need to cancel due to weather. We will let you know when our first cleanup will be!
30 HOUR FAMINE WILL BE POSTPONED! In regards of the COVID-19, we will reschedule when this is all over.  We will get through this because we are strong and staying isolated and being safe.
SUNDAY'S COOL IS ON HOLD BECAUSE OF COVID-19, BUT GOD SS STILL CALLING, ARE YOU ANSWERING? April is a very important month. April 9th is Maundy Thursday, April 10th is Good Friday, and finally April 12th , we will celebrate the Resurrection of the Lord!! Pastor Jeff will be doing worship on the First Lutheran Church Facebook page as well as on our website www.flcwarren.com. Let's Celebrate together with Pastor Jeff by watching in our homes during the live streams. Cheri will be having a Facebook Live stream message each Sunday at 9:30A.M. Add her as a friend so you can be live with her or you can watch the recorded message which will be added to the First Lutheran Church Facebook page and the website (flcwarren.com). During this time don't forget to read your Bible or do some devotions and remember GOD IS GOOD! Stay safe and see you soon!!
VBS PLANNING MEETING…April 14th at 4:30PM will be POSTPONED!  We will reschedule when this is all over.  The theme is:  ROCKY RAILWAY "Jesus' Power Pulls Us Through".  That's what Jesus is doing right now through the COVID-19!! We are not alone!  If you have any ideas for snacks, crafts, or games to go along with each day, please email cheri@flcwarren.com. She would love to hear some ideas! Day 1:  Jesus' power helps us do hard things.  Day 2:  Jesus' power gives us hope.  Day 3:  Jesus' power helps us be bold.  Day 4:  Jesus' power lets us live forever.  Day 4:   Jesus' power helps us be good friends.
DID YOU KNOW…First Lutheran's Free Little Middle School Library has given away over 100 books? Although the intention is for the books to be borrowed and returned, we know that they are serving their purpose for the students who need them! Thank you for your generous support of this outreach into the community