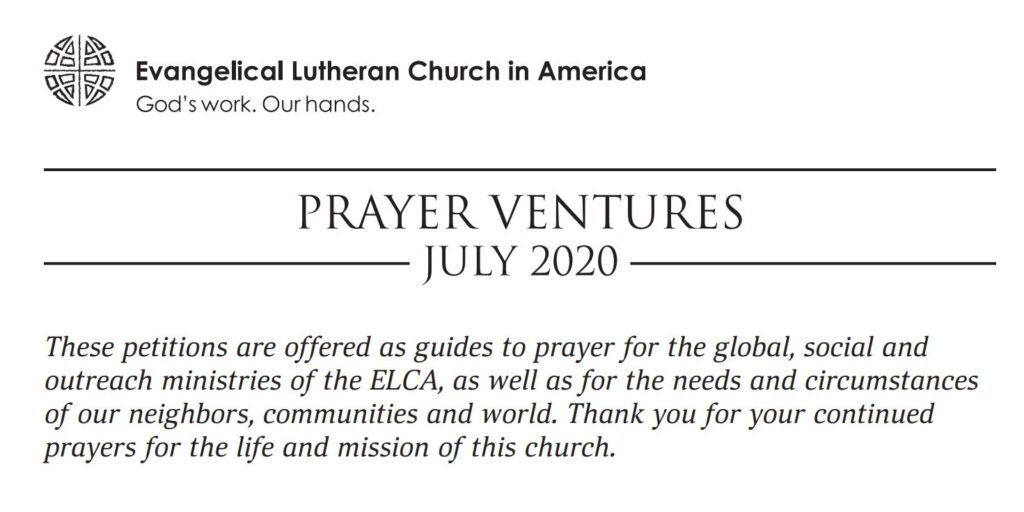 6 Pray for wisdom and patience as we navigate how to gather as congregations and discern what is appropriate, safe, caring and respectful of the ongoing concerns of our members, communities and nation.
SUBSCRIBE TO RECEIVE WEEKLY UPDATES
& THE NEWSLETTER VIA EMAIL!
PUBLIC WORSHIP HAS RETURNED at 8:00 and 10:00 a.m. Please remember that if you are compromised, uncomfortable or not feeling well, stay home – we want you to remain safe and healthy! If you are comfortable coming to worship, you MUST call the church office between 1 p.m. and 4 p.m. on Monday, Tuesday and Wednesday and speak directly with Alayna or Jess for reservations. If you call on these days and worship is filled for the upcoming Sunday, you will be the first on the list for the following week. If you call on Thursday or Friday and there is room for the upcoming Sunday's service, we will reserve your spot. However, if worship for that Sunday is full, you will need to call the following week for a reservation.
THE SALVATION ARMY is in need of food donations, especially at this time of uncertainty. They are also accepting monetary donations for students back to school clothing needs. Food donations can be dropped off in the Narthex collection box for pick-up. Monetary donations (labeled as such) can be dropped in the offering plate. Thank you!

FRIDAY NIGHT OUT IS BACK! Everyone is invited to an outdoor picnic party on Friday July 3rd at 6PM at Pellegrino's Deli on Conewango Ave. Social distancing, fire pits and ice cream are on the agenda. Tom will serve pulled pork sandwiches, meatballs, baked ziti, baked beans, macaroni salad and more for about $12/person. Vegan and gluten free options are available with prior notice. Reservations are required by Mon. June 29th. Please contact Kate & Don at 723-4520 ordreed107@verizon.net or call the church at 723-6450 and mention any dietary requests.
RUMMAGE SALE SET FOR JULY 10TH AND 11TH Our annual rummage sale is set! On Friday, the hours will be from 9:00 a.m. – 2:00 p.m. and on Saturday from 9:00 a.m. – 1:00 p.m. You may bring in items you would like to donate for this year's event to the garage. We WILL NOT be accepting any kind of electronics this year and, as always, we thank you for your support and hope you will spread the word!
WEDNESDAY NOON BIBLE STUDY has started meeting in-person while properly social distancing in Niewoehner Hall each week. Come join us!
STEWARDSHIP – Thank you for your continued to support of First Lutheran through offerings online, through your banks, and by mail – your gifts are a great help to the congregation. We understand that many people's work and financial situations have been affected and/or are uncertain right now, but if you are in a position to continue your tithes and offerings to First Lutheran, please do so. While the forms of our ministry have changed in this time of isolation, the work of loving, caring for, and supporting God's people continues in earnest. Thank you as always for the gifts you share, and the gift you are, to First Lutheran.
WELCOME OUR NEW OFFICE MANAGER! The Personnel Committee of First Lutheran Church conducted interviews last month for a new office manager, and Jessica Long was hired! She started on Monday, June 15th to be able to train with Alayna for several weeks. We are excited to welcome her to our loving church!
RECONCILING IN CHRIST TASKFORCE UPDATE: Thanks for your participation in our bible study in February- that seems so long ago now, doesn't it?! We hope you found it helpful as we continue our journey in welcoming all people into our church family. The next step the taskforce will be working on is a welcome statement – letting all people know that First Lutheran is a safe and accepting place to worship, share, and be cared for. Once the taskforce crafts the statement, we will have a congregational meeting for its approval as well as the Reconciling in Christ congregational designation. Thank you for your input into this important work! If you have any questions, comments or suggestions, please feel free to touch base with a member of the taskforce: Ralph Farone, John Schwone, Kris Whitaker, Don Reed, Mary Worley, Sally Hawkinson, Sandy Wachter and Pastor Jeff.
CHURCH COUNCIL: Jeff Granger, Emily Hecei, Rose Mary Landon, Katie Bimber, Elaine Crandall, Ralph Farone, Bob Gregerson, Sally Hawkinson, Keith Hedges, Linda Ross, Sunny Thomas, and Randy Witmer comprise First Lutheran's church council this year. Please feel free to reach out to them with thoughts, questions, suggestions, insights, etc… Through you, they have been called and elected to be servant leaders – to guide our church family where God is leading us. We thank them for their service and their leadership! And please keep them in your prayers as they continue to discern and navigate these unprecedented times!
LUTHER'S LOCKER EASTER EGG CHALLENGE Do you still have those Easter Egg's laying around? We are still collecting! You can bring them to Sunday service or drop them off during the week. A collection box is set up in the narthex.
ALTAR FLOWERS FOR 2020! These are dates you can purchase flowers for this year:
October 11 (2 vases) November 8, 22, 29
Call Kris Whitaker (726-2843) or email whitakerc@verizon.net to place an order.
EVEN THOUGH SUNDAY'S COOL IS OVER we can still learn in the word together. Pastor Jeff will be doing worship on the First Lutheran Church Facebook page as well as on our website www.flcwarren.com. Let's Celebrate together with Pastor Jeff by watching in our homes during the live streams. Cheri will be having a Facebook Live stream message each Sunday at 9:30A.M. Add her as a friend so you can be live with her. During this time don't forget to read your Bible or do some devotions and remember GOD IS GOOD! Stay safe and see you soon!!
VBS IS STILL SCHEDULED! Many changes have been made so we can stay socially distanced and still see our friends. We are planning a 3 day VBS that will include a skit done by our community church VBS directors, as well as some fun activities, and amazing music. You don't want to miss it! Parents of kids up to 5th grade, if you're interested, please see below for a registration form and bring to FLC church office when completed. We need some information so we can add you to our zoom page on Sunday, July 19th, Tuesday, July 21st, and Thursday, July 23rd, from 6:00 – 6:30PM. The theme is "Trusting God!" If you have any questions, please call Cheri at 723-6450.
Alayna's Farewell Send Off will be at Betts Parks Defrees pavilion (by tennis courts) on Sunday, July 19, 2020 from 3 pm to 5 pm. Council will be providing cake and a snack. In the continuation of social distancing and respectful of others health needs and concerns we would appreciation the visiting would be spread over the two hours. There is no need to stay the whole time or all come at once. Please wear masks when coming, going, and visiting with others. We also ask that everyone please BYOB (Bring Your Own Beverage) and if you would like more space for social distancing bring your own chairs.